Ptlls Coursework Examples
Rabbi's book simplifies Ten Commandments for children
Published: Thursday, 30 November 2017 10:00
Written by Marcia Horn Montgomery, Contributing Writer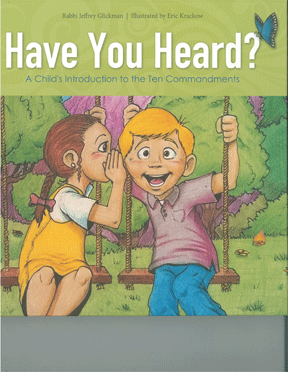 "Have You Heard?" by Rabbi Jeffrey Glickman, 10 color 
illustrations, 32 pp., Schiffer Publishing Ltd., $14.99
Explaining the Ten Commandments to a child can be difficult, but Rabbi Jeffrey Glickman makes it easy in his new book "Have You Heard?" Translating each commandment from the original Hebrew, Rabbi Glickman pares each one to its very basic premise.
Formerly a rabbi at Temple Adath Joseph in St. Joseph, Missouri, where he served from 1989 to 1995, Rabbi Glickman is now in his 23rd year at Temple Beth Hillel in South Windsor, Connecticut. He said he loved his years in St. Joseph, where three of his children were born.
Although he was made an honorary member of Temple Adath Joseph, he said he is a paying member because he wants to support the congregation.
He and his wife Mindy, between the two of them, have seven children ranging in age from 17 to 30.
This is the 57-year-old Reform rabbi's first book, but he has 24 board games on the market, all based on his sermons.
The book is for ages 5 to 8 and is one that Rabbi Glickman hopes children will want to return to over and over, whether they can read or not, and show it to their friends. The illustrations, by Eric Krackow, convey each commandment as Rabbi Glickman presents them.
"The artist went so above and beyond what I ever imagined for these pictures," said Rabbi Glickman. "They're so simple that they just warm you in the right places."
Plus, there's a little surprise in every picture — children (and adults) will have fun looking for it.
The children's text is in big, bold letters and Rabbi Glickman begins each page with "Have you heard?" For example for the fifth commandment, honor thy father and mother, he writes: Have you heard? Your parents are a part of you.
That's what the parents read to the child out loud. The smaller print at the bottom of each page is for parents to read to themselves, giving them tips on how to explain to their child what this means.
"I don't want this to be the book talking to the kid; I want the parents to talk to the kid," Rabbi Glickman said. "I want the parents to look like they're the heroes, like they're the ones who know — not that the book knows."
There are a lot of adults entering into parenthood who know there's something good about religion and want to teach it to their children, but don't know where to start, Rabbi Glickman said. What comes to mind are the Ten Commandments.
But how do you explain "Thou shalt not bear false witness against thy neighbor" or "Thou shalt not commit adultery" to a child?
For bearing false witness, Rabbi Glickman tells the child: You can remember what you see.
Then, for parents, he asks them to explain that it's good to remember what you see and tell people about it. You don't have to make things up because the things you see are amazing enough.
Rabbi Glickman begins the chapter on adultery with "Promises are treasures." He said according to the rabbis adultery isn't really about sex. At its essence it's about breaking a marital vow or promise.
"This is a wonderful way for parents to talk to their kids about faith that's not imposing," he said. "They are commandments, but I don't say you have to do this or that. But it does have that force. I just say 'Have you heard?' Have you heard, this is something we've got to do.
"I did not want to call it the 10 suggestions or the 10 tips for life or 10 good ideas, because we're commanded to do them."
With this book, Rabbi Glickman said he paves the way to the Ten Commandments as they are written so when children learn them in Bible class, they will understand them better for having read the book.
Another difficult commandment to teach to young children is "Thou shalt not kill." Rabbi Glickman writes "Don't waste."
"This one is tricky because we're allowed to have chicken for dinner, so what does it mean? I thought the simplest essence of this very difficult commandment is don't waste life and that opens up a whole slew of other things," he said.
He calls this an adult book disguised as a children's book. He said there is even an adult group using it as their book of the month.
Since Rabbi Glickman works with families so much and teaches these concepts over and over, he said he decided to write them down to see if he could make a unified whole out of them.
"I wanted to make it really easy for parents to address 10 important concepts that they want their kids to know, which happen to be in the Ten Commandments," he said. "I wanted them to be accessible. I work with lots of little kids and little kids don't understand; they want a couple of basic things."
"Have You Heard?" is available in bookstores, Amazon or directly through the publisher at schifferbooks.com.
Task Notes
To be able to complete this task you need to know what the stages of the teaching/training cycle are; what the scope of your role is or might be; what your responsibilities are and the boundaries which may impact on your teaching practice. The notes below give you some guidance but are not intended to be a definitive list – you may think of others and some may not be relevant to your personal teaching practice.
Throughout these notes there are suggestions for additional research and reading – do not try to cover all of these. Most of the topics will be reviewed again later in the course. After you have read these notes, have a go at the activities and weblinks.
Task: Click on the Teaching/Training Cycle Powerpoint presentation before reading the notes.
Role: Assessor, Reviewer; Signposter etc.
Responsibilities: It is important that you identify the needs of your learners so you can design the course to reflect individual differences. Although this is usually described as the first stage in the teaching/training cycle it is a process that may have to be deferred until you meet your learners for the first time and usually should be a continuing requirement throughout the learning journey. However, some organisations interview their learners before the course, or there may be an application process where learner needs can be identified.
The range of learner needs can be described by a variety of acronyms – one of which is SPICE:
| | | |
| --- | --- | --- |
| Social – | | might affect how a learner can interact with others or how they view learning especially if they have had previously bad experiences of education. |
| Physical – | | might affect how a learner can access learning (e.g. sensory disabilities or reduced mobility). |
| Intellectual – | | might affect how a learner gains new knowledge/skills. Learners may be at different academic or skill levels and take longer or shorter times to process new knowledge/skills than others in the group. |
| Cultural – | | might affect learner views, values and beliefs. |
| Emotional – | | might affect learner motivation or ability to concentrate. |
In all cases teachers have a responsibility throughout the teaching cycle to monitor their practice and ensure learner needs are met.
!Boundaries! Learners may not want to disclose needs and the teacher must respect their right to refuse to divulge sensitive information. Learners have a right to expect that personal information is kept confidentially and not discussed with others, unless permission has been given to do so or there are concerns for vulnerable adults.
Topics to research/review:
You now need to consider the following through research and further reading:
Initial assessment.
Learning styles inventories.
Individual learning plans.
Barriers to learning.
Role: Planner, designer, reviewer, scheduler, organiser, researcher etc.
Responsibilities: It is the responsibility of the teacher to plan and design a course, which meets the needs of the learners and requirements of the course. Most teachers/trainers will be responsible for designing their own courses. There are some courses, however, which are prescriptive and have to be delivered in a set way; for these teachers, there may be limited opportunities at this stage of the cycle.
It is the responsibility of the teacher to write the syllabus for the course while ensuring that the learning outcomes, aims and objectives for the course are covered in an appropriate way e.g. length of time allocated to each outcome, order in which outcomes are planned; possible delivery strategies; appropriate resources and assessment methods.
This stage is about planning the course; these plans, however, are not 'set in stone' and changes can be made throughout the teaching cycle.
!Boundaries! In their course planning and designing, tutors have to be aware of the requirements of the awarding body, their own organisation and legal obligations (such as health and safety). Courses have to be planned so all the learning outcomes are met in the time allowed. Resources and methods have to be appropriate – don't plan for resources which are too expensive or not available (remember, in some organisations you may have to book them).
Topics to research/review:
You now need to consider the following through research and further reading:
Definitions of learning outcomes, syllabus, aims and objectives.
Writing schemes of work and session plans.
Individual learning plans.
Role: Teacher, tutor, facilitator, coach, instructor, lecturer, presenter, mentor, trainer, assessor, demonstrator, guide, listener, communicator etc.
Responsibilities: A teacher's responsibility is to deliver a course, which is appropriate for the learners, takes account of individual needs and which has clear aims and objectives. The activities should be appropriate and varied to appeal to learners with different learning styles. The resources should be well prepared, sufficient for the number of learners and used to support the learning activities. Teachers should differentiate their activities and strategies to ensure all learners can access learning.
Learners should be told at the start of each session what the lesson objectives are and how these relate to the overall course outcomes.
Sessions or tasks should have an introduction, a main content and a conclusion, which will promote learning and consolidate new skills or knowledge.
During their sessions, teachers should support their learners and assess their skills and knowledge through a range of formative assessment tasks.
Teachers have a responsibility to keep their learners safe both physically and emotionally. They need to assess the safety of classroom activities and ensure that none of their learners are being harassed or discriminated against by themselves, the organisation or other learners.
Teachers have a responsibility to ensure that they have sufficient current knowledge or skill to deliver the course content and answer any learner questions.
Teachers have a responsibility to ensure all necessary records and paperwork are up to date and filed securely.
!Boundaries!: Teachers must act in a professional manner throughout their teaching sessions. They should dress appropriately - an 'appropriate' style of clothes will differ according to the subject or curriculum area – and behave and communicate in an acceptable way (language which is discriminatory, judgemental or offensive should always be avoided – remember cultural differences). Teachers must keep a professional distance and not become too friendly with their learners although a teacher/student relationship should always be based on mutual trust and respect.
Topics to research/review:
You now need to consider the following through research and further reading:
Differentiation.
Teaching methods and strategies.
Using resources.
Formative assessment.
Maslow's Hierarchy of Needs.
Malcolm Knowles' andragogy.
Role: Assessor, recorder, marker, reviewer, provider of feedback, guide, etc.
Responsibilities: It is the responsibility of the teacher to ensure that learner achievement and progression is checked throughout the learning process (formative assessment) and at the end of the course (summative assessment). The assessment methods have to be fair, reliable and valid and linked to the planned activity tasks.
In accredited courses, summative assessment is often prescribed by the awarding body and teachers have a responsibility to ensure that learners are aware of these requirements and know how to meet the assessment criteria.
Teachers have a responsibility to give clear, concise and accurate feedback to learners on their progress and achievement along with developmental comment.
This progress and achievement should be recorded in accordance with awarding body or organisational procedures. Where there is no formal recording documentation, teachers should record progress and achievement on a class tracking sheet or on a learner ILP.
Feedback to learners should be given as quickly as possible and should be based on the quality of the submission with a mix of positive and developmental comments (if necessary).
!Boundaries!: Teachers should not set assessment tasks which do not link directly to the learning objectives. Teachers must make sure that their planned assessments are at the correct level for the learners and assess what the learners should be able to achieve. Teachers should not set learners up to fail.
Topics to research/review:
You now need to consider the following through research and further reading:
Formative and summative assessment.
Fair, reliable and valid assessment.
Feedback strategies.
Assessment records.
Assessment strategies.
Role: Checker, reviewer, evaluator, researcher, questioner, adaptor, reflector, etc.

Responsibilities: It is the responsibility of the tutor to continually review the effectiveness of the course, including the content, delivery methods, resources, assessment strategies, environmental issues and learner satisfaction. A tutor should complete a lesson evaluation after each session; this should include strengths of the session, areas for development and improvements for future delivery. Learners could also be asked to reflect on the success of the sessions; this could be done verbally, through an evaluation form or by an evaluation activity.
Learner achievement and progression also give a good indication of the effectiveness of your sessions – although motivated learners can often achieve even if the teaching has areas for improvement. It is the responsibility of the tutor to implement any changes which are considered to be beneficial, either during the next session or in the next scheduled course delivery.
!Boundaries!: Teachers should be aware of learner feedback but any changes to the course content or delivery should only be made if they are in accordance with awarding body or organisational policy and will benefit the majority of learners.
Topics to research/review:
You now need to consider the following through research and further reading:
Evaluation methods and strategies.
Activities
Assessment task